Global Recruitment for senior engineer
Beier Machinery Group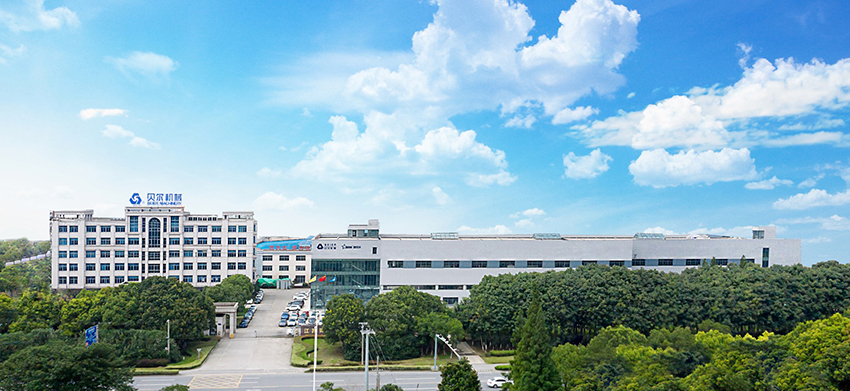 Company introduction
Jiangsu Beier Machinery Co., Ltd., founded in 1998, is the vice president of China Plastic Machinery Industry Association, ranking the top three in China's plastic machinery extrusion industry. Many products of the company have passed the EU CE certification. At present, the company has 350 employees, 60 professional and technical personnel of R&D, 60 national patents, including 20 invention patents. It has built provincial foreign expert studio, plastic waste utilization mechanical engineering technology research center and other R&D platforms, and has successively won the honorary titles of "China machinery industry science and Technology Progress Award", "provincial science and technology giant enterprise", "municipal innovation and entrepreneurship mayor Award". The company has overseas offices in the United States, Australia, Russia, Turkey, Iran, Brazil and other countries and regions. At the end of December 2017, the company was identified as a "Listed enterprise" by municipal government.
With the company's expansion and high-quality development to the capital market, we are looking for high-end technical engineers in the plastic industry from domestic and abroad,
Job description
The Senior Manufacturing Engineer is responsible for major industrial and/or manufacturing engineering accountability for comprehensive responsibilities including trouble-shooting manufacturing methods, processes, tooling, computer numeric controls programming, and other activities that affect the assigned area.
Making what matters work at BEIER takes the passion of every employee around the world. We create an environment where creativity, invention and discovery become reality, each and every day. It's where bold, bright professionals like you can reach your full potential—and where you can help us reach ours.
In this function, you will:
· Develop and implement new or modified manufacturing methods in assigned area to reduce production costs and improve efficiency
· Review, maintain and create operational standards and keep the information up-to-date in the appropriate system
· Lead continuous improvement teams (CIT) in continuous improvement framework
· Investigate and analyze production methods, processes and operations to determine manufacturing modifications that will increase production efficiency and reduce costs
· Review the design of product components and parts and recommend design changes that will facilitate product manufacturing, reduce costs, exploit the advantages of new materials, etc.
· Observe and analyze high scrap or rework operation to determine causes. Advise concerned personnel of the results and recommend/ implement solutions to problems
· Compile pertinent cost, manpower efficiency, machine capability, space utilization, material handling, etc., to support new manufacturing methods or modification recommendations
· Prepare data package including layouts, equipment quotations, and written justifications for capital appropriation requests as required for process/efficiency improvements
· Conduct studies to prepare and recommend new and revised operating procedures to maintain control, improve operations, and facilitate processing
· Analyze, develop, recommend and justify tooling requirements for assigned lines. Approve the procurement implementation, and utilization of tools
· Compile and analyze significant data relative to the solution of manufacturing problems and/or cost reduction studies, i.e., vendor capabilities and fabrication costs to determine the economics and feasibility of 'make or buy' decisions; the correlation of product design requirements with manufacturing operations and capabilities; the economics of maintaining inventory levels based on machining cost per volume, etc.
· Prepare and submit manufacturing cost estimates and substantiating data for review and approval
· Coordinate program/ project management activities related to growth or change
BEIER philosophy is "quality is the foundation, Honest is the credibility win-win is the goal". Base on this, When we embrace the different ideas, perspectives and backgrounds that make each of us unique, we — as individuals and as a company — are stronger.
Qualifications
Required (Basic) Qualifications:
Master's Degree or above in Manufacturing, Mechanical or Industrial Engineering from an accredited institution
Minimum of 5-10 years of manufacturing engineering experience in plastic machinery industy. (European company work experience is preferred)
Relocation assistance is available for this position. Nationality is not limited. We will assist you for Visa, working permit, insurance and other related procedures according to the requirements of China's labor law.
Preferred Qualifications(one of each):
· Experience in PE/PVC/CFRTP plastic pipe extrusion machinery R&D
· Experience in developing / utilizing wasted plastic recycling PET/PE/PP, such as bottle, film, bag recycling, washing, crushing, pelletizing machinery R&D
· Programming experience for AI sorting robot R&D
· All electronic drive blow molding system R&D
· Abundant client source in local market for distribution.
Position Success Criteria :
Comprehensive knowledge of all manufacturing engineering and manufacturing activities including processing, computer numeric controls programming for lathes, machining centers and grinders, tooling, plant layout, work flow, manufacturing cost control and reduction
Ability to evaluate manufacturing problems in team format and prepare financial justification data and submit capital requisitions for new and improved equipment
Thorough knowledge of manufacturing in order to analyze, evaluate and determine solution to a wide variety of problems that may affect the assigned area
Human relations skills to direct processing personnel and to work with other plant supervisory personnel.
Technical writing ability. May require familiarity with military, company, or international specifications and appropriate format
Courage to work in a different culture background, and curiosity to witness the growth of the on-going biggest economic entity in the world.
We're ethical, passionate, accountable, efficient, transparent and we're committed to learning. These values enable us to tackle some of the toughest challenges on the planet, never losing sight of what matters, Join us now will be the best choice for your life.
Job: Manufacturing & R&D
Region: Suzhou, Shanghai China or your home
Job Level: Individual Contributor
Schedule: Full-time (China)or work at home(international)
Is remote work (i.e. working from home or another BEIER facility) allowed for this position?: YES
Does this position offer relocation?: YES
Travel: Yes, 10 % of the Time
Accommodation and transportation: YES
Contact info
Contact person: Mr. Kim
richbeier@beierpm.com
+86 138 1488 0186
Mr. Si
spm@beierpm.com
+86 137 7326 8866