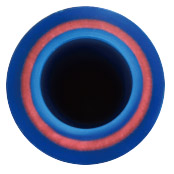 Multi-layer PP-R Pipe Production Line
Hot PP-R 4 layer pipe production line,which has been successfully running in Germany and Middle East markets,widely satisfied and approved by customers.
1.Internal layer PP-R:30%
The internal layer made from high grade polyproylene granulate features the colour coding of the pipe and is used to guarantee the renowned sate processing as well as to protect the middle layers.
2.Second layer Glass fiber compounding:30%
The PPR glass fiber compound is the result of detailed research carried out at the Beier Polymer-Engineering division and is a new development in this field. the perfect interaction between the corresponding glass fibres and the PP-R provides outstanding properties in terms of linear expansion,deflection and low-temperature impaction strengh.
3.Intermediate layer PP-R.30%
Improved long-term stress behavior with longer periods of operation.especially at higher temperatures.
4.External layer PP-R CT:10%